Hung-wen Cheng

Upcoming Events
| | |
| --- | --- |
| 2011.August | The gift-giving ceremony of Chinese calligraphy was held in the Thai Prime Ministry Office of Mr. Song Li。 |
| 2011.September | The work of Chinese calligraphy was designated as a Diplomatic Present to the Thai president-elect。 |
| 2011.September - October | The art exhibition of one hundred Chinese calligraphers for celebrating Xin Hai centennial. in Beijing held by the Culture Ministry of China. |
| 2011.September - October | In charge of writing Sun Yat-Sen's quotation for the event of Xin Hai centennial of "The Chinese calligrapher scroll of a hundred meters" in Wuhan.city. |
| 2011.October | The Book of "Heart ˙Xin Hai Ge Ming" |
| 2011.October | The work of Chinese calligraphy was designated as a Diplomatic Present of Hayward in America and Phuket in Thailand. |

Hong-Wen Cheng was born in Taipei. During childhood, he received the Bronze Medal Award of Taiwan-Japan Cultural Exchange after painting for one year. Since his parents opposed his painting, he always enjoyed writing Chinese calligraphy after studying or working as a personal hobby.
In order to write Chinese calligraphy very well, he places Chinese brushes, Chinese ink, Chinese papers, Chinese inkstones in his office, in his bedroom, and even in his computer bag in order to write it down immediately whenever he thinks of a good structural word. Furthermore, he often forgets to eat and sleep because when he is inspired to do some new calligraphy.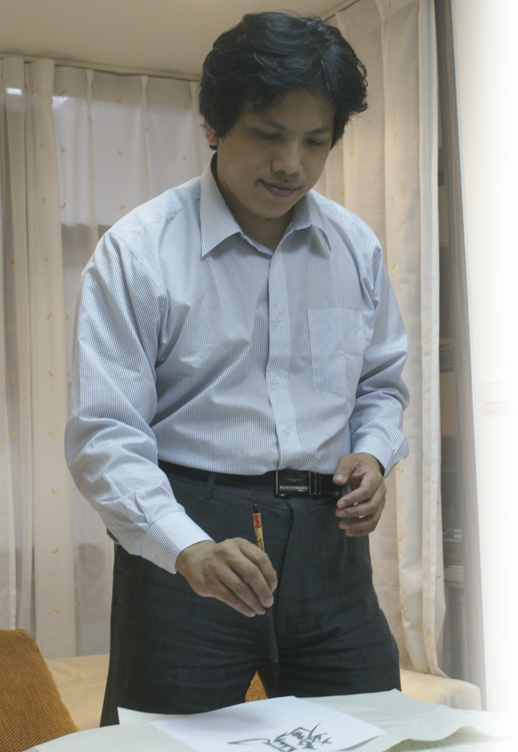 In addition, he always looks for related books of Chinese calligraphy at bookstores wherever he goes. Thus, he has enjoyed many ancient and modern works of Chinese calligraphy for years.
Introduced by his elders, he had the chance to do Chinese calligraphy with Mr. Chih-Gang,Shi. By way of their discussion, Hong-Wen Cheng thus was inspired in concentrating on the status of Chinese brush and using the spirit of Qigong and Tai Chi for his creation and his Chinese calligraphy were displayed after he was 38 years old.
With a fusion of painting and meditation, his Chinese calligraphy is written through his spiritual intuition and has touched the hearts of people.

The work of which he is most proud, "Dragon", shows a dragon- shape that is a dragon-word made with only one stroke. This Chinese calligraphy really amazed people.
Chinese calligrapher:Hong-Wen, CHENG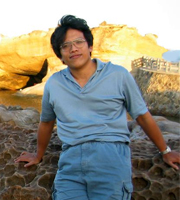 Hung-wen Cheng
(1973-)

calligrapher
Artist

Position:
1. The President in IBT CO., LTD
2. The International Investment Consultant in DACHENG Law Offices

Quotation of Calligrapher:
I am grateful to live in the traditional Chinese environment of Taiwan.

The traditional Chinese characters nurture my growth with poetic grace since they can be found in all large streets and small lanes.

This Chinese environment helped me learn the essence of Chinese so that I can completely write the spirit, artistic conception, vigor, and beauty of Chinese characters.